Store Pages
Home
My Account
My Cart
Smoking Lounge
Advanced Search

About Us
Contact Us
Directions
FAQs
Age Verfication

Summer Product Showcase 2023

Spring Product Showcase 2023

Winter Product Showcase 2022

Virtual Tour
Site Map
---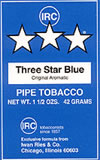 HOME OF THREE
STAR TOBACCO
---
---
---

---
---
---
---
---
We now offer discounted parking at the 55 E. Monroe Parking Garage. Ask us for more information.
---

Camacho
---
The Eiroa family has been growing tobacco since the early 1900's. First, Generoso Eiroa, in Cuba but in the wake of the Castro revolution and subsequent nationalization of the tobacco plantations, his widow and three sons were forced to leave the country without a penny to their name and settled in Tampa, Florida. Julio Eiroa joined the Bay of Pigs invasion attempt as one of a force of Cuban exiles with the US Army. While his brother, Generoso Jr. worked in Nicaragua, Julio travelled to Honduras in 1963 on behalf of tobacco dealer Angel Oliva. There, as part of a government project, he laid the foundations for today's extensive tobacco plantations belonging to the Eiroa family.
After his first year with the Oliva Family, Julio Eiroa decided to become an independent farmer. A decision that would prove to be one to change the history of tobacco growing in Honduras. Julio Eiroa year after year, would buy the government tobacco farms.
Like many of the Cuban exiles from the tobacco business who had left their homeland in the wake of the 1959 Castro revolution, Julio Eiroa's family built a new life for themselves in the USA. And like many tobacco growers, they also made use of Florida as a platform for their next move to Central America where, with extensive plantations in Honduras, they laid the foundations on which the family business would enjoy a splendid future.
---
---
Brand A - Z | Brand Z - A | Price Low - High | Price High - Low | Best Selling | New Arrivals