Store Pages
Home
My Account
My Cart
Smoking Lounge
Advanced Search

About Us
Contact Us
Directions
FAQs
Age Verfication

Fall Product Showcase 2023

Summer Product Showcase 2023

Spring Product Showcase 2023

Virtual Tour
Site Map
---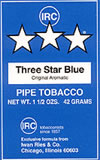 HOME OF THREE
STAR TOBACCO
---
---
---

---
---
---
---
---
We now offer discounted parking at the 55 E. Monroe Parking Garage. Ask us for more information.
---

Meerschaum
---
The History of Meerschaum

The noble Meerschaum is unique among pipes. Its mysterious properties make it a perfect smoke and, at the same time, a work of art; a pipe highly prized by the Connoisseur and beginning smoker alike. Meerschaum is a German word meaning sea foam. The geologist knows the light, porous Meerschaum as hydrous magnesium silicate. The pipe smoker knows it as the perfect material for providing a cool, dry, flavorful smoke. The mineral itself is the fossilized shells of tiny sea creatures that fell to the ocean floor over 50 million years ago, there to be covered and compressed over the ages by layer upon layer of silt. Profound movements in the earths crust raised the creamy white stone of Meerschaum above sea level. There men eventually discovered it and created an incomparable pipe from it. The first record of Meerschaum as a pipe dates from around 1723.
---
Brand A - Z | Brand Z - A | Price Low - High | Price High - Low | Best Selling | New Arrivals