Store Pages
Home
My Account
My Cart
Smoking Lounge
Advanced Search

About Us
Contact Us
Directions
FAQs
Age Verfication

Fall Product Showcase 2023

Summer Product Showcase 2023

Spring Product Showcase 2023

Virtual Tour
Site Map
---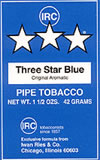 HOME OF THREE
STAR TOBACCO
---
---
---

---
---
---
---
---
We now offer discounted parking at the 55 E. Monroe Parking Garage. Ask us for more information.
---

Snus
---
Swedish snus is a moist to semi-moist, oral tobacco product that is used behind the upper lip. There are two formats for Swedish snus, loose and portion packed. Both formats are available in different flavor varieties. Swedish snus is made from selected tobaccos, water, salt and flavorings, following recipes dating back to the late 18th century. Swedish snus is pasteurized in a proprietary heat treatment process that removes undesired microorganisms and nitrosimines while prolonging freshness.

With Swedish snus there's no chewing or spitting. Only pure tobacco enjoyment.

---
Brand A - Z | Brand Z - A | Price Low - High | Price High - Low | Best Selling | New Arrivals