Store Pages
Home
My Account
My Cart
Smoking Lounge
Advanced Search

About Us
Contact Us
Directions
FAQs
Age Verfication

Summer Product Showcase 2023

Spring Product Showcase 2023

Winter Product Showcase 2022

Virtual Tour
Site Map
---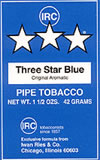 HOME OF THREE
STAR TOBACCO
---
---
---

---
---
---
---
---
We now offer discounted parking at the 55 E. Monroe Parking Garage. Ask us for more information.
---

Amorelli Pipes
---
Salvatore Amorelli discovered a passion for pipe-making in 1982, and quickly developed a reputation for high-quality pipes at more than reasonable prices. In a little workshop in Sicily, he mkes classical pipes, as well as special series': "Busbee", "Frac", "Nail", "Ghibli", "Lyra", "Fish Tail", etc. These terms signify the characteristics of the shapes and the quality of the pipes. Every finished pipe is stamped with a certain number of stars: five stars is assigned to the finishes with the most beautiful grain. The briar is perfect and compact in every finish. 25 years have passed since when Totò Amorelli entered the scene with his creations, inimitable still today: busbee, frac, lyra, fish - tail, nayl, unicum, interpretaions of a new point of view and to realize a pipe.

The 18Kt Gold logo, only sicilian and selected briar, 5 years seasoned and interpreted piece by piece. Big successed in Italy, Germany (where a tobacco and and an aromatic Cigar by Amorelly is distributed), USA, Canada and recently Hong Kong, as attested by the "Uniche" for important persons: a pipe with the shape of a pastoral for S.S. Papa Woytila, a Saxophone for Bill Clinton, Helmut Koll is smoking a pipe in a gold plaque with diamonds which represents the unification of the two Germanies.

A King was missed, but in 2005 Totò created the "Magnifico Narghilè" for H. H. Abdullah Al, to let him tasting the time, an incomparable richness. And what we can say about the jewel pipes with Pasternack collection diamonds, distributed by Gudrun Pasternack, niece of Boris and destined to the Arabic Pricesses. What about the near future Amorelli projects?

A unique pipe which answers to very high standards of quality, which allows perfect smokes for its exceptional lightness and porosity, joined to the compactness and beauty of the grain. A Amorelli pipe is recognized by an unmistakable logo: a 18K gold bar, placed in the midium of the junction of the shank and mouthpiece and which allows a perfect positioning.

Projecting and making with a scrupulous rigours, Amorelli refers to the most exigent pipe connoisseur who will be able to recognize a very high smoking quality and prize a processing of the highest level, rich of rifined details. It climaxes in a delicate process of finishing where esteemed Brazilians bee waxes are used to feed and exalt the fibre of the wood, leaving the pipe breathing. Today his last creations named Tyche, Galatea, Musa.
---
Brand A - Z | Brand Z - A | Price Low - High | Price High - Low | Best Selling | New Arrivals