Store Pages
Home
My Account
My Cart
Smoking Lounge
Advanced Search

About Us
Contact Us
Directions
FAQs
Age Verfication

Summer Product Showcase 2023

Spring Product Showcase 2023

Winter Product Showcase 2022

Virtual Tour
Site Map
---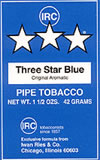 HOME OF THREE
STAR TOBACCO
---
---
---

---
---
---
---
---
We now offer discounted parking at the 55 E. Monroe Parking Garage. Ask us for more information.
---

Radice
---
Luigi Radice has had a long and varied history in the world of pipe making- so long and varied that he now holds the honorary title of
Oldest Italian Artisan Pipe Maker Still Actively Involved In His Craft. Gigi, as he is known to his friends, actually started off in the jewelry trade as an engraver. He carried this skill over when he began in the pipe trade with the great firm CASTELLO, situated in a village not far from his own. In 1970, he and another talented pipe maker, Pepino Ascorti, founded the CAMINETTO brand which was sold for ten years before internal difficulties forced its dissolution. In 1980 Gigi made, for the first time, a brand under his own name and with his own individual style. Known throughout the pipe making world for his skill, inventiveness, and panache his work is always recognizable as RADICE.


---
Brand A - Z | Brand Z - A | Price Low - High | Price High - Low | Best Selling | New Arrivals