Store Pages
Home
My Account
My Cart
Smoking Lounge
Advanced Search

About Us
Contact Us
Directions
FAQs
Age Verfication

Summer Product Showcase 2023

Spring Product Showcase 2023

Winter Product Showcase 2022

Virtual Tour
Site Map
---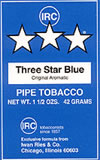 HOME OF THREE
STAR TOBACCO
---
---
---

---
---
---
---
---
We now offer discounted parking at the 55 E. Monroe Parking Garage. Ask us for more information.
---

Drew Estate Pipes by Tsuge
---

DE Pipe Collection by Tsuge – Tsuge Pipe will produce this new line of pipes at their Japanese headquarters. This marks Drew Estate's first entrance into the physical pipe market, as they have previously sold pipe tobacco exclusively. Drew Estate will offer three pipe styles to start:
The Robusto, which features a chunky bowl and is the smallest of the three designs. The pipe has a nice portability and will fit easily into a jacket pocket.
The Churchill, which features a tall, slender bowl that is more elegant in its styling.
The Belicoso, which features a tall, tapered bowl, a hybrid between the other two pipe styles offered by Drew Estate.
All three styles will be offered in two finishes, Smooth and Sandblasted. The pipes will retail for $275 MSRP through authorized DE Pipe Collection retailers. All three pipes feature a modular design, which allows for customization through the purchase of additional bowls with varying finishes, along with stems in both bent and straight varieties. Each pipe also features a custom windscreen cap, engraved with the Drew Estate logo, which will allow for smoking even in the windiest conditions. The pipes are custom designed by Tsuge and utilize a patented aluminum technology that is guaranteed to remain cool to the touch during smoking.
---
Brand A - Z | Brand Z - A | Price Low - High | Price High - Low | Best Selling | New Arrivals