Store Pages
Home
Directions
Contact Us
About Us
Virtual Tour
My Account
My Basket
Site Map
Advanced Search
Events Calendar
FAQs


---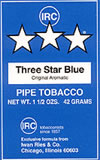 HOME OF THREE
STAR TOBACCO
---
---
---

---
---
---
---
---
---
---
We now offer discounted parking at the 55 E. Monroe Parking Garage. Ask us for more information.
---
---

Safferling
---
Bertram Safferling was born in Heidelberg, Germany in 1951. He studied design and engineering at the National Academy of Cultural Arts in Stuttgart, and since 1981 he has been an independent designer with an emphasis on pipe design. He is quite well known in Europe, and has had two of his pipes displayed at the Munich Museum of Contemporary Design.
All pipes are handmade by Bertram, using the highest grade briar along with stems he hand-cuts himself from top quality rod stock. Besides producing pipes in conventional shapes Bertram sculpts some of his plateau blocks into readily apparent "Safferling" designs.
Safferling pipes provide an exceptional smoke, and present an outstanding value in handmade pipes; his work can be said to represent the state of the pipe making art in Germany today.
It is indeed unfortunate that the U.S. market will receive only about 60 of the approximately 150 pipes Bertram makes each year- the rest destined for Europe and Asia.
---