Store Pages
Home
My Account
My Cart
Smoking Lounge
Advanced Search

About Us
Contact Us
Directions
FAQs
Age Verfication

Summer Product Showcase 2023

Spring Product Showcase 2023

Winter Product Showcase 2022

Virtual Tour
Site Map
---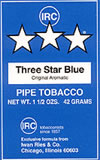 HOME OF THREE
STAR TOBACCO
---
---
---

---
---
---
---
---
We now offer discounted parking at the 55 E. Monroe Parking Garage. Ask us for more information.
---

Lane Limited Tobacco
---
A BRIEF HISTORY OF LANE
Lane was originally founded in Dresden, Germany in 1890. Then, as today, the company specialized in the highest quality pipe and roll-your-own cigarette tobaccos. Herman G. Lane, one of the founder's grandsons, emigrated to the United States in 1938 and re-established the company in Manhattan. Lane Ltd. pipe tobaccos were manufactured at 25 Beekman St. in New York City until 1983. In 1983 the production facilities were moved to Tucker, Georgia, just outside of Atlanta.
FUN FACTS:
A 1946 catalogue features 40 pipe tobacco blends, starting at 14 cents per ounce.
Captain Black made its first appearance in a 1956 catalogue, where it was touted as 'slightly aromatic, slow burning & pleasant,' and sold for 25 cents per ounce.
Lane Ltd. changed hands several times over the decades (Brown and Williamson, Conwood and Reynolds), but the heart of the company – the folks who actually produce the tobacco – has remained consistent. In fact, there are employees at the Tucker facility who also worked at the original plant in Manhattan.
LANE TODAY
In March of 2011, Lane Ltd. was purchased by Scandinavian Tobacco Group, headquartered in Copenhagen, Denmark. With manufacturing sites across eight countries and three continents, Scandinavian Tobacco Group is the world's #1 manufacturer of pipe tobacco, the world's #1 cigar manufacturer, and a global leader in RYO. On June 1, 2012, Lane was officially renamed Scandinavian Tobacco Group Lane Ltd.
Lane's pipe portfolio now includes Captain Black, Sir Walter Raleigh, Borkum Riff, Peter Stokkebye, Half &Half, Orlik, Escudo, and 15 more of the world's most iconic pipe tobacco brands.
Lane also produces Bugler, America's #1 RYO brand, Winchester, the original little cigar.
---
Brand A - Z | Brand Z - A | Price Low - High | Price High - Low | Best Selling | New Arrivals