Store Pages
Home
My Account
My Cart
Smoking Lounge
Advanced Search

About Us
Contact Us
Directions
FAQs
Age Verfication

Fall Product Showcase 2023

Summer Product Showcase 2023

Spring Product Showcase 2023

Virtual Tour
Site Map
---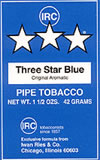 HOME OF THREE
STAR TOBACCO
---
---
---

---
---
---
---
---
We now offer discounted parking at the 55 E. Monroe Parking Garage. Ask us for more information.
---

Graco Pipes
---

Graco is the French brand of the former Grappin Fils et Cie factory. Inexpensive pipes in Algerian wood, and also with skin-coated bowls. Symbol: GRACO' in white, silver, or gold (on the best pieces).
It was an autonomous brand, which finished in 1968, but pipes produced in Saint-Claude with Graco (manuscript) stamped on the stem have appeared on the market.
---
Brand A - Z | Brand Z - A | Price Low - High | Price High - Low | Best Selling | New Arrivals