Store Pages
Home
My Account
My Cart
Smoking Lounge
Advanced Search

About Us
Contact Us
Directions
FAQs
Age Verfication

Fall Product Showcase 2023

Summer Product Showcase 2023

Spring Product Showcase 2023

Virtual Tour
Site Map
---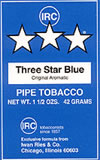 HOME OF THREE
STAR TOBACCO
---
---
---

---
---
---
---
---
We now offer discounted parking at the 55 E. Monroe Parking Garage. Ask us for more information.
---

McClelland Christmas Cheer
---
With Christmas Cheer McClelland provides the discriminating smoker with the singular pleasure of a particular vintage year of Virginia tobaccos. They get better with age, but once they're gone... they're gone.
---