Store Pages
Home
My Account
My Cart
Smoking Lounge
Advanced Search

About Us
Contact Us
Directions
FAQs
Age Verfication

Virtual Tour
Store Catalog
---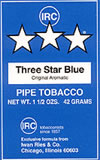 HOME OF THREE
STAR TOBACCO
---
---
---

---
---
---
---
---
We now offer discounted parking at the 55 E. Monroe Parking Garage. Ask us for more information.
---

Hardcastle
---

Hardcastle was founded in 1908 by Edmund Hardcastle and built itself a good reputation among the numerous British mid-graders. In 1935 Dunhill started to build a factory next door to Hardcastle in Forest Road, Walthamstow, London E17. The family owned Hardcastle Pipes Limited sold 49% of its equity to Dunhill In 1936.
Along with closing down it's pipe factory in Notting Hill in 1946 Dunhill bought the remaining shares turning Hardcastle into a 100% Dunhill subsidiary. As members of the Hardcastle family continued as executives in the company's management Hardcastle retained a certain independence.
This ended in 1967. Dunhill merged Hardcastle with Parker (100% Dunhill as well). The new Parker Hardcastle Limited also absorbed the former Masta Patent Pipe Company. Hardcastle's Forest Road plant was immediately given up and the production of Hardcastle pipes was shifted to Parker's nearby St. Andrews Road factory – now consequently called Parker-Hardcastle factory.
In fact this put a definite end to Hardcastle as a own-standing pipe brand and no one minor than Edwin Hardcastle, the last of the family executives, spoke frankly and loudly of Hardcastle pipes being degenerated to an inferior Dunhill second.
Today Hardcastle pipes use funneled down bowls that are not deemed suitable to bare the Dunhill or even the Parker name, as well as obtaining briar from other sources.
---