Store Pages
Home
My Account
My Cart
Smoking Lounge
Advanced Search

About Us
Contact Us
Directions
FAQs
Age Verfication

Fall Product Showcase 2023

Summer Product Showcase 2023

Spring Product Showcase 2023

Virtual Tour
Site Map
---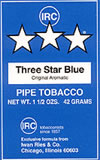 HOME OF THREE
STAR TOBACCO
---
---
---

---
---
---
---
---
We now offer discounted parking at the 55 E. Monroe Parking Garage. Ask us for more information.
---

Buno Nuttens Pipes
---

Bruno Nuttens was born in Belgium and has been living in France for over 15 years.

He began my pipe-making career working in restoration, and soon felt a strong desire to make his own pipes. Bruno began by using pre-turned stummels, but quickly progressed to making pipes entirely hand made.

Nuttens received a great deal of advice from pipe master Pierre Morel, who also helped him to locate vintage tools and machinery of the 'Saint-Claude' pipe-making tradition. These enabled high-precision work and opened up a wide range of technical possibilities.
In July 2019, Tom Eltang invited me to spend a week in his workshop to learn other techniques with him.

Bruno has attached particular importance to the technical aspects of pipe-making in order to make the smoking experience as enjoyable as possible. I also select the finest quality materials available, in particular top-quality briar and German ebonite and cumberland.

Although Nuttens enjoy creating classic, timeless designs, he also offers pipes with a more personalised shapes, aesthetic and finish.
---
Brand A - Z | Brand Z - A | Price Low - High | Price High - Low | Best Selling | New Arrivals