Store Pages
Home
Directions
Contact Us
About Us
Virtual Tour
My Account
My Basket
Site Map
Advanced Search
Events Calendar
FAQs


---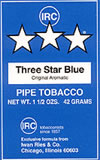 HOME OF THREE
STAR TOBACCO
---
---
---

---
---
---
---
---
---
---
We now offer discounted parking at the 55 E. Monroe Parking Garage. Ask us for more information.
---
---

Askwith Pipes
---

Askwith Pipes are made using briar, olive wood or Morta (10,000 year old semi-fossilized Bog Oak), airways are drilled to 4mm. Lucite, Ebonite, Cumberland and Horn stems are used, very open inside and funneled at the bit. They are usually fitted with delrin tenons for ease of insertion and removal. Askwith uses a variety of exotic woods and metals for stem accents.
Chris Askwith lives in Plymouth, in the South West of England, famous as the place where the Pilgrim fathers left for America. He has been making pipes since 2007.
---