Store Pages
Home
Directions
Contact Us
About Us
Virtual Tour
My Account
My Basket
Site Map
Advanced Search
Events Calendar
FAQs


---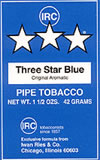 HOME OF THREE
STAR TOBACCO
---
---
---

---
---
---
---
---
---
---
We now offer discounted parking at the 55 E. Monroe Parking Garage. Ask us for more information.
---
---

John Aylesbury "Sir John"
---
John Ayelesbury is not a man, but an Organization comprised of 50 family-owned and operated retail Tobacconists in Germany. These specially made pipes are known for their timeless design, superb craftsmanship, and excellent smoking qualities.
---