Store Pages
Home
Directions
Contact Us
About Us
Virtual Tour
My Account
My Basket
Site Map
Advanced Search
Events Calendar
FAQs


---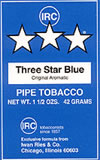 HOME OF THREE
STAR TOBACCO
---
---
---

---
---
---
---
---
---
---
We now offer discounted parking at the 55 E. Monroe Parking Garage. Ask us for more information.
---
---

Iwan Ries 150th Anniversary
---
This pipe was commissioned for our 150th Anniversary. These limited edition pipes are in specially designed unique finishes. Very limited quantities of each were made. Each pipe is stamped "Iwan Ries & Co. 1857-2007."
---